Sitting in my living room minding my own business for once when a cousin was at the state fair and text me a picture of a quilt with the infamous words . . . . "hey! Would you make this quilt for me?"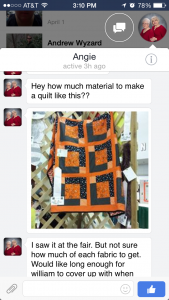 I've never seen this quilt or this pattern before IN MY LIFE.  So what did I respond?
Uh, Sure!
After studying the picture a couple dozen times and figuring out what size she wanted the quilt to be, I sent her a materials list and Wah-lah!  A quilt was born!
Since then, I've made this same quilt pattern a couple of times with a little modification here and there.
Browsing through quilt blogs and emails, I find patterns that look cute and I want to try out.  Like this one, I made for my MIL's birthday last year.
I got all the way to the VERY end binding it and made a mistake that I corrected, but it wasn't perfect =  so I made the entire quilt all over again!  This time making sure I did not make the same mistake!